It's common for belts to have three layers: a top cover, a carcass, and a bottom cover. Conveyor belt can be generally divided into rubber belt and Lightweight belt, according to the different material of the top cover layer. Top cover layer material of rubber belt is various natural rubbers or synthetic rubbers. Top cover layer material of Lightweight belt is various polymer materials, such as PVC compound, PE compound, TPU compound, TPEE compound, and silicone materials.
A heavy-duty rubber belting system is used for applications that require continuous movement of bulky heavy materials, such as Mining, Iron and steel Manufacturing, Waste/recycling, transportation in ports. Coated rubbers can withstand high temperatures and bulky, heavy materials. A lightweight belting is designed to meet various material handling requirements in diverse industries, such as food processing, unit package handling, pharmaceutical, paper goods. A conveyor system can greatly save the energy and increase efficiency.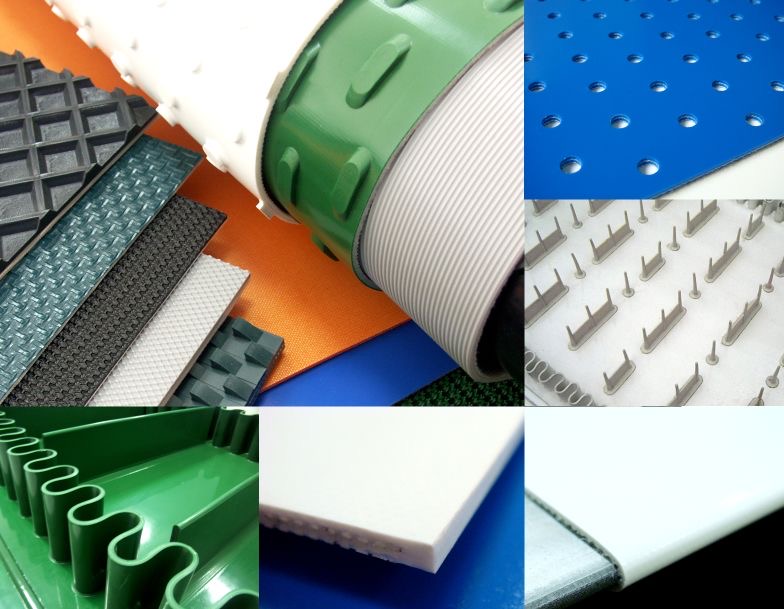 The purpose of the carcass is to provide strength and shape to the conveyor system and is often PVC in the 1980s. In the 1990s, as various high-performance polymer materials such as PVC, PE, TPU, TPEE, silicone were widely used in the production of various special performance conveyor belts, the application fields of light conveyor belts have been significantly expanded. Since the beginning of this century, as the calendering and extrusion process has been more popularized and applied, more environmentally friendly materials TPU is more widely used in the production of various special performance conveyor belts
covers are usually various rubber or plastic compounds specified by the use of the belt. PVC and TPU is the most often used plastic material. Compared with PVC, TPU material is more stronger and has better comprehensive performance and is safer and environmentally friendly. The basic characteristics of different covering materials are shown in the following table.
| | | |
| --- | --- | --- |
| Top cover layer material | Material characteristics | Applications |
| PVC | It has good chemical resistance, excellent electrical insulation, flame retardant, easy modification, low cost, but easy to release toxic and harmful substances at high temperatures | Food, electronics, logistics, chemicals, stone, fitness and entertainment, industrial automatic doors, agricultural products processing, etc. |
| PE | Excellent electrical insulation, good fluidity, non-toxic and will not produce toxic substances when burned, but the rigidity is large, the mechanical strength is poor, and it is easy to crack | Food, electronics, logistics, chemicals, stone, fitness and entertainment, industrial automatic doors, agricultural products processing, etc. |
| TPU | Wear resistance, oil resistance, cold resistance, tear resistance, chemical resistance, good adhesion, high strength, strong shock absorption, non-toxic | Food, agricultural products processing, chemical precision instruments, printing, tobacco, textile printing and dyeing, electronics, steel, automotive and other industries |
| TPEE | Wear resistance, oil resistance, cold resistance, tear resistance, chemical resistance, good adhesion, high strength, strong shock absorption, non-toxic | Food, medicine, tobacco, etc. |