How to solve degumming and unsticking problem of mobile phone cover that made by TPU plastic over-moulding PC
The mobile phone case are mainly divided into soft shell and hard shell depend on the kind of material.
The material of soft shell is mainly silicon and transparent TPU. The material of hard shell is mainly PP, PC, glass, leather and so on.
TPU transparent soft mobile phone case:
TPU is a kind of elastomer material between rubber and plastic. It is resistant to oil, water and mould. TPU products have outstanding impact resistance and shock absorption performance. TPU material mobile phone cover is with comfortable handle feels. However, due to TPU material mobile phone cover is easy to turn yellow, generally it needs to be replaced within 1 month.
PC hard mobile phone case:
PC material phone protection case is with good light transmittance. The lightweight brightly colored PC shell provide comfortable touch and stylish visual enjoyment. The main performance defects of PC material are sensitive to the gap, unresistance to organic chemical, unresistance to scratch. Angle of PC material protective shell may be broken after fell off. PC phone protection case is with poor protection performance.
With the more and more picky requirement of user's, many accessory manufacturers began to develop new composite materials to produce mobile phone protective shell, such as TPU+PC. PC material shell, TPU material side, this composite materials will not only make the protective shell more solid, but also make the handle feel improvement. The following describes a new TPU+PC mobile phone cover which combined with the TPU good feel and PC good light transmittance. It also improve scratch resistance of PC shell by cover a layer of film on the shell.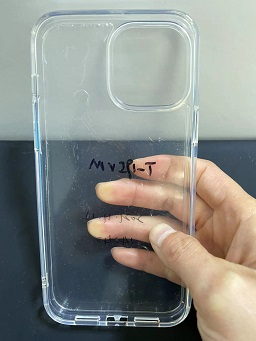 There are some technical difficulties in the production of TPU+PC mobile case. Due to the small contact surface between TPU and PC, TPU is easily peel off from PC and PC cannot be wrapped well. The following are some possible solutions to this difficulty
1.Make sure the contact surface of TPU and PC is smooth or must be polished to smoot. Molecular chains of PC and TPU can be fully melting together to sticky on the smooth contact surface.
2. Increase the injection temperature by 5-10 degrees
3. Is there a slot design in the mold to increase the adhesive effect with the help of the structure
4. Improve mobility of TPU